You've caught them, we've cleaned them, now its time to cook them!
It is blackfish season and although one of my favorite ways to eat blackfish is fried, here is another alternative that is still very yummy!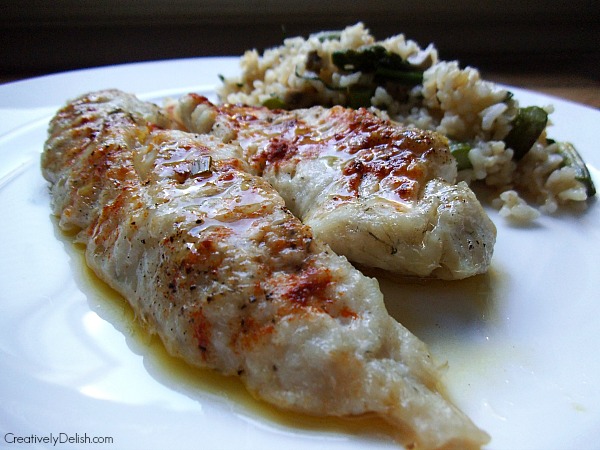 Parmesan Crusted Tautog with Herbed Lemon Sauce
Ingredients
1 lb tautog or other white fish fillet
smoked paprika
olive oil for baking + ¼ C for the sauce
shredded parmesan cheese
even amounts of each, all chopped: mint, basil, chives, parsley, rosemary.
juice of 1 lemon
zest of 1 lemon
1 TBS butter
Instructions:
Preheat the oven to 475.
On a baking sheet, grease it with a little olive oil and arrange fillets.
Sprinkle each fillet with parmesan cheese then sprinkle a little bit of paprika on each. Bake for 8 minutes or until fish is cooked through.
In a saucepan, heat ¼ cup olive oil, butter and lemon juice for 5 minutes. Add the zest and herbs then stir to combine. Let that simmer for 5 minutes while the fish cooks.
Using a strainer, pour the sauce through and discard of the herbs (or leave them if you want).
Drizzle each fillet with the sauce then enjoy!
Fried anything is good, so if you decide to fry your fish, here is a great spicy sauce that will compliment it
Spicy Fried Fish Sauce
1/2 cup mayonnaise

1/4 cup sour cream

2 tablespoons ketchup

1 tablespoon Sriracha or other hot chili sauce

2 tablespoons chopped fresh chives

1 tablespoon fresh lemon juice
Marc Clancy shared Pan Fried Coconut and Chili Sea Robin
(this can be used with any delicate tasting fish as well, sea bass, porgy or fluke but try it with sea robins and I think you will be pleased)
Ingredients:
-2 Sea Robin fillets
-1/4 cup fine corn meal
-1/8 cup sweetened coconut shreds
-2 Tbsp. chili powder
-1 egg
-peanut oil (if allergic you can use any oil, peanut oil does taste delicious though)
Prep:
-Mix corn meal, coconut, and chili powder in a bowl (I usually mix them
in a small food processor first. As packaged, the coconut shreds may not
stick very well, so the processor cuts them a bit smaller while also
mixing the ingredients)
-In a separate bowl, beat the egg to make an egg wash. If desired, mix
in a pinch of salt to taste.
-Pour peanut oil into a skillet, enough to coat the bottom of the pan,
and heat oil to approx. 365-375°F.
Cook:
-Coat the fillets in the egg wash and then drag through the breading, do
2 passes for a thicker crust. Do not put the fillets in the mix, cover
and shake the bowl to coat them, the coconut usually does not stick with
that method
-Place fillets in skillet and cook until light brown and flip to cook
the opposite side, recommended internal temp. for fish is 145°F
Also in picture:
-Rice a Roni cheddar and broccoli rice
-Sauteed onion and bell pepper with teriyaki sauce
BEER BATTERED PORGY FILLETS
1 cup cornmeal
1 cup all-purpose flour
1 tablespoon baking powder
1 tablespoon kosher salt
One 12-ounce bottle of your favorite beer
2 teaspoons hot sauce, such as Tabasco (optional)
8-12 porgy fillets
Fill a Dutch oven halfway full with oil and heat to 350 degrees F.
Add the cornmeal, flour, baking powder and salt and whisk to combine in a large bowl. Whisk in the beer, being sure to remove any lumps. Stir in the hot sauce if using.
Sprinkle the fillets with salt and pepper. Dip each fillet in the beer batter and add to the fryer, one at a time. Fry until brown and crispy, 3 to 4 minutes, flipping halfway through. Transfer the fillets to a wire rack on a baking sheet and sprinkle with salt and pepper. Repeat with the remaining fillets.
SEA ROBIN TACOS
1 pound of pinboned and skinned sea robin filets (you can use porgy too!)
Vegetable Oil
1 cup flour
3 eggs
2 cups panko breadcrumbs
1 packet of taco seasoning
Taco shells or corn tortillas
Cheese, Guacamole, Lettuce (any of your favorite taco toppings!)
Get out your deep fryer, dutch oven or cast iron skillet and fill it with vegetable oil, you want enough in there melted to be able to fry your taco nuggets up. Heat the oil to 350 degrees. While the oil heats up get your fish ready! Coat it in flour, then the egg and finally the panko breadcrumbs mixed with taco seasoning. Toss a few nuggets in at a time (don't overcrowd the pan) fry for 2-3 minutes or until a light golden brown. Transfer the pieces to a plate with some paper towels layered on to soak up any excess oil. Fill up those shells with the fish nuggets and all your fixin's and enjoy!
Grilled Whole Porgy
6 1/2 lbs whole scaled and gutted porgies
1 cup extra virgin olive oil
4 cloves crushed garlic
salt and pepper to taste
juice of one lemon
1 T oregano
combine 3/4 cup of oil with crushed garlic, place cleaned porgies on the grill, spread with olive oil and garlic,season with salt and pepper to taste, grill 3 minutes on each side and respreads olive oil mixture and cook until done approximately 3 more minutes., Plate them and squeeze on fresh lemon juice and 1 T oregano, enjoy
Salsa Baked Filets
1 lb of seabass or porgy filets, pinboned
1 16oz jar of your favorite salsa (Captain Amanda uses pineapple or mango for a special twist!)
Preheat your over to 350 degrees. Cover a baking sheet with tinfoil and spray with pam coating the entire pan evenly. Place the filets on the pan and cover with salsa. Bake for 10-15 minutes depending on the thickness of your filets. You will know the fish is done when it easily flakes with a fork.
Serve with black beans and yellow rice!
Barbara's Banner Bluefish
1 lb bluefish fillets
1/2 mayonaise
1/2 cup horseradish (more or less depending on your personal preferance)
4 tbsp butter, melted
1/2 breadcrumbs
lemon wedges
Preheat oven to 350 degrees
Combine mayo and horseradish and set aside. Spray a foil covered baking sheet with pam or olive oil and place fish fillets on pan. Cover filets with the mayo horseradish mixture. Combine the melted butter with breadcrumbs and sprinkle over bluefish. Place fish in preheated over and bake for 10-15 minutes depending on the size and thickness of fillets. When it flakes easily with a fork its done! If breadcrumbs have not browned you can broil for 30-90 seconds until they are.
Serve with a rice pilaf or greek salad. You will never know you are eating bluefish!
Lobster Smothered Fish Fillets
2- 6oz Fillets of your favorite fish
1/2 teaspoon old bay seasoning
sea salt and black pepper OR lemon pepper seasoning to taste
Preheat your oven to 350 degree and coat a baking dish with olive oil
Place the fish fillets in the oiled baking dish and season with salt and pepper or lemon pepper
Slice the butter into thin tabs and lay on top of the fish
Bake fish for 15-20 minutes
While the fish is baking add 1/4 of a cup white wine to a saute pan and heat over high heat for 5 minutes whisking vigorously. Lower heat to medium low and add heavy cream. Add lobster meat and cook until it just turns pink. Smother fish fillets with sauce and serve with your favorite grilled vegetable.